HYBRIDE III – FAMILY
A reading battle with music
In this episode, we examine aspects of family in Henning Bochert's text Hybride oder Ich will Kelly Osbourne sein.
Parents, parents of parents, children, and their children: What happens at the change of the generations? What is inevitably inherited? What can be learned? A few old friends will also drop in.
FAMILY is the title of the third of four installational and performative works in the HYBRIDS sequence. After a short play and an installational performance, this time the musical reading battle follows. The fourth date, HYBRIDS IV -KELLY OSBOURNE, is scheduled for March 2014.
– Pisum vulgaris, sagt sie.
– Wir sind Bastarde.
– Hybride?
– Genau.
Henning Bochert – text and performance
Matthias Bernhold – music and performance
---
VIERTE WELT
Friday, 13 December 2013, 8 pm
Admission: 3 Euro
At Zentrum Kreuzberg | walkway 1st floor [access via outer stairs Adalbertstraße 96]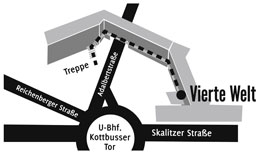 ---
Produced by