George Brant's play GROUNDED is translated into German by myself and represented by the S. Fischer Theater&Medien Verlag.
ABOUT THE PLAY
Seamlessly blending the personal and the political, Grounded tells the story of a hot-rod F16 fighter pilot whose unexpected pregnancy ends her career in the sky. Repurposed to flying remote-controlled drones in Afghanistan from an air-conditioned trailer near Vegas, the Pilot struggles through surreal twelve-hour shifts far from the battlefield, hunting terrorists by day and being a wife and mother by night. A tour de force play for one actress, Grounded flies from the heights of lyricism to the shallows of workaday existence, targeting our assumptions about war, family, and the power of storytelling.
ABOUT GEORGE BRANT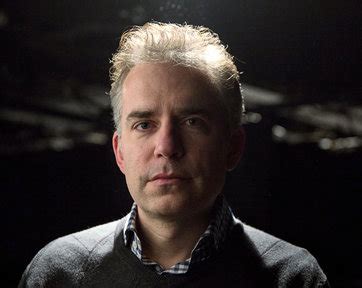 George Brant's plays include Elephant's Graveyard, The Mourners' Bench, Any Other Name, Grizzly Mama, Salvage, Three Voyages of the Lobotomobile, Defiant, Good on Paper and Dark Room. His work has been produced and developed by such companies as Trinity Repertory Company, the Kennedy Center, Cleveland Play House, Asolo Rep, Bay Area Playwrights Festival, The Playwrights' Center, WordBRIDGE Playwright's Lab, the Hangar Theatre, Equity Library Theatre, Premiere Stages, Florida Studio Theatre, Trustus Theatre, Elemental Theatre Collective, Balagan Theatre, the Drama League, the Disney Channel, Factory Theatre, Debutantes and Vagabonds, StreetSigns Theatre Company, and zeppo theater company, among others. His scripts have been awarded the David Mark Cohen National Playwriting Award from the Kennedy Center, the Keene Prize for Literature, and an Ohio Arts Council Individual Excellence Award for 2012.  He has received writing fellowships from the James A. Michener Center for Writers, the MacDowell Colony, the Djerassi Resident Artists Program and the Blue Mountain Center as well as commissions from Dobama Theatre and Theatre 4. George received his MFA in Writing from the University of Texas at Austin and is a member of the Dramatists Guild.  His scripts are published by Samuel French and Smith & Kraus.
More information at www.georgebrant.net