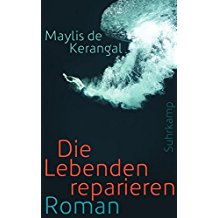 1. Ursula Krechel/Landgericht
2. Stefan Hertmans/Der Himmel meines Großvaters (Oorlog en terpentijn; translated by: Ira Wilhelm)
3. Rüdiger Safranski/E. T. A. Hoffmann, eine Biographie
4. Thomas von Steinaecker/Wallner beginnt zu fliegen
5. David Foster Wallace/Der große rote Sohn (The Big Red Son; translated by: Ulrich Blumenbach)
6. David Vann/Aquarium (Aquarium; translated by: Miriam Mandelkow)
7. David Foster Wallace/Der Besen im System (The Broom of the System; translated by: Marcus Ingenday)
8. Roger Willemsen/Wer wir waren
9. Martin Walser/Ein sterbender Mann (abandoned)
10. Rüdiger Safranski/Nietzsche-Biografie seines Denkens
11. Uwe Johnson/Begleitumstände, Frankfurter Vorlesungen
12. Kirsten Fuchs/Die Titanic und Herr Berg
13. Isaac B. Singer/Collected Short Stories
14. Marcel Beyer/Flughunde
15. Friedrich Christian Delius/Der Spaziergang von Rostock nach Syrakus
16. Uljana Wolf/Wandernde Errands
17. Gerald Lind/Lumbers Reise (abandoned)
18. Didier Eribon/Rückkehr nach Reims
19. Paul Auster/4321 (4321; translated by: Thomas Gunkel, Werner Schmitz, Karsten Singelmann, Nikolaus Stingl)
20. Max Frisch/Aus dem Berliner Journal
21. Annie Proulx/Aus hartem Holz (Barkskins; translated by: Melanie Walz, Andrea Stumpf)
22. Maylis de Kerangal/Die Lebenden reparieren (Réparer les vivants; translated by: Andrea Spingler)
23. Franzobel/Das Floß der Medusa (abandoned)
The literary highlights of the year certainly include Proulx's masterpiece, Kerangal's surprising, remarkably dense book, and the slim "Journal" by Frisch. One third of the books read can be categorized as newer German language prose, almost half are international fiction, and the rest are non-fiction or German language classics.