Tag Archives:
Radio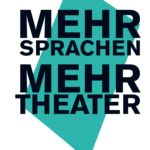 Eva Behrendt with a radio feature on Drama Panorama's event on Multilingualism in Theatre
Posted in Commentary, Production
Also tagged becker, behrendt, broadcast, deutschlandradio, dlr, Drama Panorama, multilingualism, nagel, perle, theatre, toffoli, wilk
Leave a comment
In November, I had the pleasure to participate as a voice talent in recording Kathrin Röggla's LÄRMKRIEG. The radio play was now broadcast by Bayrischer Rundfunk BR2. You can listen to or download it here. Enjoy.