Kritik A Man Walks into the World
ON WITH THE SHOW: Play Evokes Art's Existential Struggle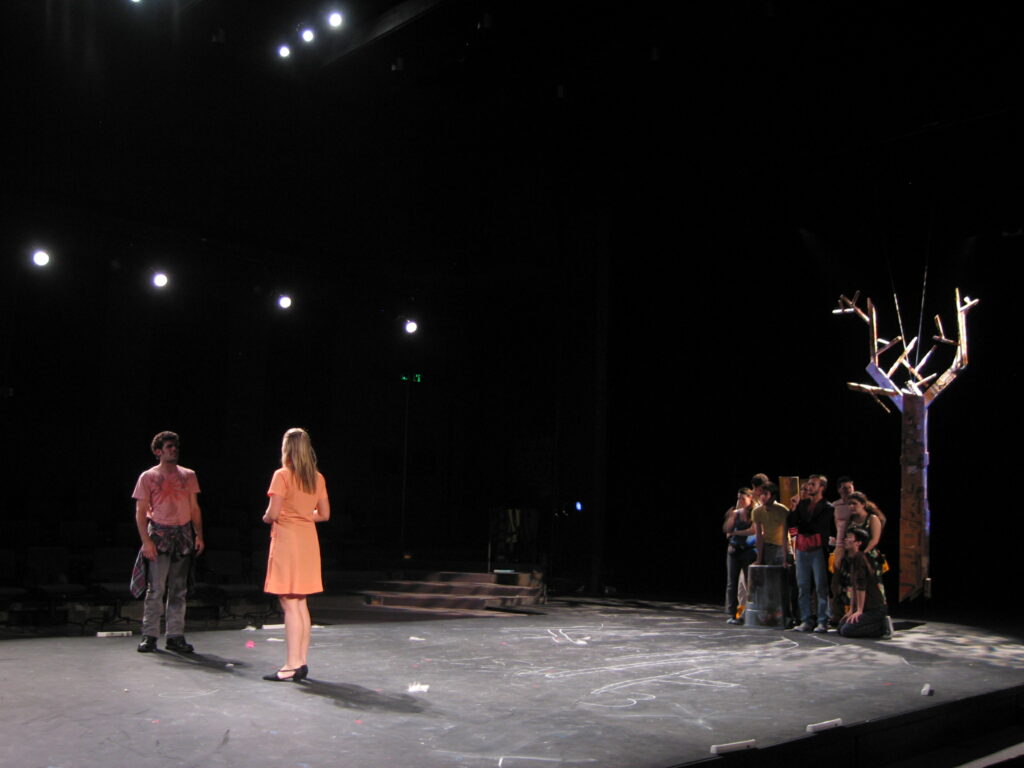 While struggling to find the exact opening sentence for this review of "A Man Walks into the World," I stumbled across California Repertory's mission statement. It hit the nail on the head.
Although Martin Heckmanns's existential debate about "the meaning of life" is presented by the California State University, Long Beach, Players, not Cal Rep (the professional, graduate wing of the theater department), their mission remains the same: To nurture artists and challenge audiences with exciting, relevant, thought-provoking material.
And does it ever!
If you think this post-modern "dramedy" about "what it all means" and "what it takes to be an artist" is thought provoking for the audience, imagine how challenging it is for the actors, who must have the where-with-all to put it all across.
Working from a translation by Henning Bochert, visiting Russian director Valentin Levitsky (accomplished actor, scholar, writer, and teacher from St. Petersburg University) guides a superb CSULB cast through the hurdles and quagmire of Heckmann's psychological, philosophical, existential dilemma.
Everyone in the ensemble is outstanding, but Dave Honigman deserves a chorus of kudos for his incredible portrayal of Bruno — the anti-hero and wannabe artist who keeps straying from the path and getting lost in the world.
Others who join Bruno's investigation of life include Sam Floto (who plays many diverse parts with great skill); John Martin, his unloving father who didn't want to be saddled with a son; Sarah Loya, his befuddled mother whose attempts to guide him are rebuffed; and Jimmy Oh, his carefree friend and colleague.
Breanna Sarpy is delightful as the sexual temptress who leads Bruno astray; and Lindsey Sapia portrays Suse, his long-suffering true love. An independent beauty who waltzes out of Bruno's life when he betrays her, Suse later marries him and they have a child. History repeats itself when, like his father, Bruno doesn't want to be tied down with a baby.
"A Man Walked into the World" is an epic life-story complete with Greek Chorus and magical-realism transitions that flash back and forth through time and space. In fact, it evokes similar elements as the quests of "Candide" and "Pippin." Come to think of it, some of the same quandary was presented 50 years ago in "Waiting for Godot — which also is enacted on a bare stage with a lone tree.
Even now in our 21st Century, the questions remain unanswered. How can an artist find something profound to say that hasn't already been said? What innovative things must he do to be seen, heard, or read? What is life anyway? Who's in charge of it? And if God (the supreme artist) created the world, why can't we remember what He taught us? Why don't we learn from past catastrophes? Why do we keep making the same mistakes over and over and over again?
Amanda Knehans designed the evocative minimal set; Naoki Ogawa created the stark dramatic lighting; Ivan Kushnir composed Bruno's special music and Martina Jeans created the knockout costumes.
When all is said and done, ardent theater-buffs have already been down the long road that Bruno travels. But his journey is still challenging, the questions are still relevant, and this production is exciting and extremely well presented. So go.
By Shirle Gottlieb
Posted: Gazettes.com, Wednesday, April 20, 2011 1:44 pm | Updated: 11:30 am, Wed Apr 27, 2011.