Kritik A Man Walks into A World
Credits: Keith Ian Polakoff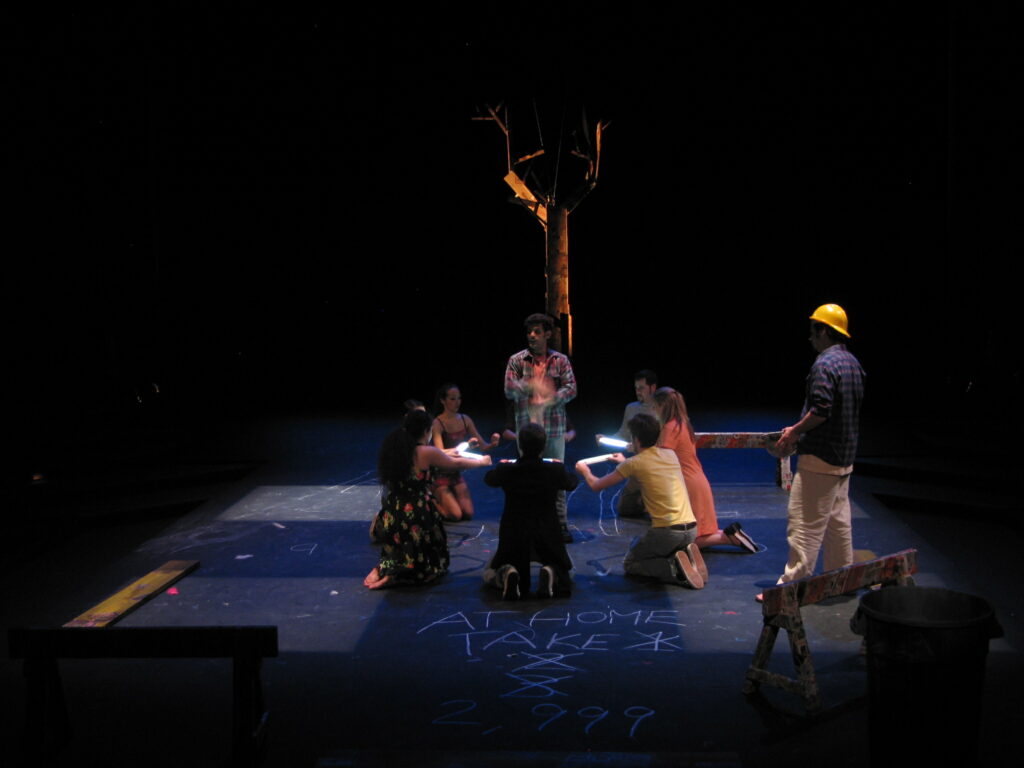 Dr. Joanne Gordon, Department Chair of the CSU Long Beach Theatre Arts Department has waited a long time for a certain man to walk into the department. With a PhD in Art Criticism, emphasis in theatre, from St. Petersburg University, (where he now teaches acting and directing) Valentin Levitsky is that man. He was initially scheduled to a direct a play in the 80-90 seat, black box Players Theatre for the spring semester of the University Players' 2009-2010 season, but for reasons moot, he was unable to make it and was replaced with a new show and a new director. Now, one year later, and in the 180 seat Studio Theatre with an extreme thrust, Levitsky has safely made it to Long Beach and has opened a production of Martin Heckmanns' A Man Walks into the World.
Levitsky's art background is apparent, and in excellent form, with this production of Man Walks. An erratic story tossing short, jagged scenes of a one-hit wonder pop star, Bruno, is Heckmanns' contribution to the question of, "What is the meaning of [an artist's] life?" Tackling this life of sex, drugs, and [wannabe] rock and roll, Benjamin Bruno Rafael Stamm is the hot seat rockstar played by graduating senior Dave Honigman. No stranger to the stage, Honigman appeared earlier this semester in John Farmanesh-Bocca's innovative production of Gentlemen Redux, and last semester he was Edwin in Edgar Landa's production of Stephen Adly Guirgis' Our Lady of 121st Street, among several other productions throughout his earlier years. Supporting Honigman are nine actors, some newer to the stage than others, offering a wide variety of characters, stage presence, and skill levels. First year transfer student Lindsey Sapia plays Suse, the love interest, for the majority of the show, and although she may be new to University Players' audiences, she isn't new to the stage, which is apparent in her commanding poise and honest charisma on stage.
Regardless of the varying levels of full-length production experience (which is a blessing and a curse for educational theatre), the ensemble bands together under Levitsky's artistic reign to present this Brechtian piece. If you are hard set for a contemporary play with characters of enveloping depth, then you may be disappointed. Man Walks is nearly two and a half hours of scratching the characters' surfaces. As the saying goes, "Rome wasn't built in a day," and neither is an entire life; therefore, it's quite a task to tell an entire life story in one play. John Martin and Sarah Loya are listed as Bruno's Mother and Father, but Martin also plays Karlo at the gravel pits and a discouraging art professor, and Loya a judge. Likewise with the rest of the cast members who are forced into stints of acting drive-bys as multiple personalities in Bruno's life leaving the audience reeling with confusion (which puts you in the same position as Bruno, so it isn't entirely ineffectual). Not to say the actors do a bad job, quite the contrary. For example, Jimmy Oh takes the stage as Buddy, a crowd-pleasing riot who is mostly Bruno's hip, swaggering friend who takes him to a club, and later, an old gardener with a bonsai tree.
On the technical side of Levitsky's internationally collaborative canvas, the designers are well on their way to much greater success than the flash in the pan Bruno desperately holds onto. Martina Jeans' costume design provides a necessary delineation between the ensemble's many roles. Her balance of everyday people and heightened theatricality are as aesthetically pleasing as they are creatively constructed. Amanda Knehans furnishes the expansive thrust stage with a few pop-culture papier macheed sawhorses that serve as nightclub benches, a jail cell, a death bed, dinner table, and everything else that the drum/undressing room/uterus trash cans can't handle. Suspended above the deck is an ominously jagged tree and a tick-tocking pendulum hook that bookends the show. Occasionally stealing the show, but generally complementing it, is Lighting Designer Naoki Ogawa, whose spectacular recipe of handheld, color-versatile fluorescent lights, meticulously precise shutter cuts, and soft strokes of general lighting truly give depth to the (two hours and) fifteen minutes of Bruno's fame.
Overall, Levitsky's production was well received, and his artistic contribution to the education of CSULB theatre students was worth the wait, but the title raised a couple of questions for some audience members. Listed in the program as "A Man Walks into the World," but listed in the publicity photo display as "Man Walks into the World," a question was raised regarding the scope of the play. Is it "A Man Walks…" narrowing the scope to our rockstar, Bruno? Or is it "Man Walks…" where Heckmanns' play specifically serves as a direct metaphor for our confusing, roller coaster lives? Self-advertised by cast members on Facebook as "A Man Walks into the World," those who swear by this social network (as do many with Wikipedia) can choose the former. Whichever the case may be, Dr. Gordon's patience to keep Levitsky's vision and Heckmanns' script together was an art-felt decision for the good of her department.
Rating: 3 out of 5 masks.
A Man Walks into the World closes Saturday, April 23 with a matinee at 2pm and its final evening performance at 8pm. Performing in the Studio Theatre, tickets can be purchased at the box office an hour before the show or online at www.csulb.edu/depts/theatre.
by Marlon Deleon, Long Beach Acting Examiner, April 23rd, 2011 9:03 am PT
Source: http://www.examiner.com/acting-in-long-beach/art-piece-tackled-at-csulb-review