Etwas größere und kleinere Fische – Reading series
Friday, 28 Nov 2014, at 8 pm
at the Nachbarschaftsgalerie, Karl-Kunger-Str. 15, 12435 Berlin (Alt-Treptow)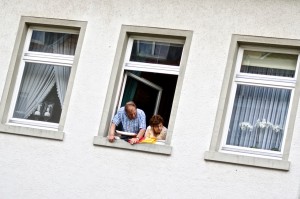 TAGESTHEMEN. SABOTEURE.
Theater text by Henning Bochert
Staged reading with Henning Bochert and Matthias Bernhold
Afterwards: open mike
TAGESTHEMEN.SABOTEURE.
deals with an elitist neoliberal as well as an extremely right-wing position sabotaging our society with an ideology of contempt. The text voices the impact in the upper class, the perpetrators, finally the incompetent authorities as well as the victims.
Henning Bochert works as author, dramaturg, and translator. He is a member of raum4 – netzwerk für künstlerische alltagsbewältigung e.V. as well as of Drama Panorama: Forum für Übersetzung und Theater.
A production by KungerKiezInitiative e.V.
in cooperation with Fahrbibliothek Treptow-Köpenick
Funded by Berliner Autorenlesefonds
Bildrechte: Matthias Bernhold