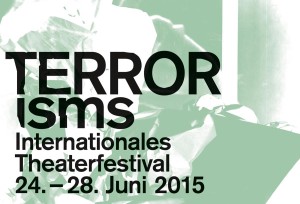 While the TERRORisms Festival at Schauspiel Stuttgart is still underway, and while the pertinent e-publication is presented Sunday night, we are proud to announce that the e-book is now available for free download.
Drama Panorama has participated in this project in creation of the majority of the translations in this book and their coordination. In close collaboration both with the Union des Théâtres de l'Europe and CulturBooks, we compiled this wonderful digital document.
TERRORisms is a cooperation project led by the "Union des Théâtres de l'Europe" with the support of the "Creative Culture" programme of the European Union. Developed in collaboration between five theatres in Stuttgart, Oslo, Belgrade, Tel Aviv and Reims, the TERRORisms project resulted in the creation of five original plays dealing with the issue of terrorism.
Written over the period of 2013 through 2015, the plays by Fritz Kater in Stuttgart, Milena Marković in Belgrade, Maya Arad in Tel Aviv, Jonas Corell Petersen in Oslo and Aiat Fayez in Reims led to the organisation of a series of world premieres, production exchanges, meetings, conferences and discussions all around Europe and beyond.

These five plays — the original version and their translations into English and German — are now available as an eBook. Click on the cover to go to the download page. And please feel free to spread the link: www.culturbooks.de/terrorisms.