Kreuz und quer – translated America – reading and talk
Thursday, September 30, 2021, 8pm, ACC Galerie Weimar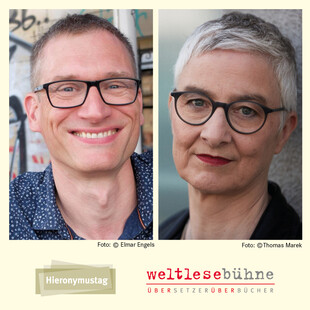 On occasion of this year's International Translation Day, the ACC Galerie will once again invite two translators, Miriam Mandelkow and Henning Bochert, who will this time guide us criss-cross through the American literature and their translational challenges in a compelling reading. They will present prose passages from the large and small works of James Baldwin (Ein anderes Land/Another Country) and Susan Glaspell (Regierungsziege/Government Goat) and discuss potential effects of the differences between writers and translators for their translating. In the sense of the transparency of translation work, they will disclose the processes and discuss with the audience the exciting texts and the challenges in their work.
Miriam Mandelkow, born in Amsterdam, has been translating from English languages for 20 years, incl. works by Richard Price, Eimear McBride, Samuel Selvon, and Ta-Nehisi Coates. She was awarded the Helmut M. Braem Translators Award 2020 for her new translations of James Baldwin's works.
Henning Bochert, born in Wuppertal, acting diploma from the Universität der Künste Berlin, works as writer, dramaturg, and nationally authorized translator for English in Berlin. He runs his own translation agency and is, among others, invested in the work of Drama Panorama: Forum für Übersetzung und Theater e. V.
This event is a cooperation with the Weltlesebühne e. V. and is funded by the Deutscher Übersetzerfonds e. V. (German Translators Fund).
Louisa Girrulat (ACC Galerie), T: H. Bochert

Admission: 3 € | red. 2 € | Tafelpass 1 €
Visit the ACC Galerie's website here.