Generational Icons/Generační Ikony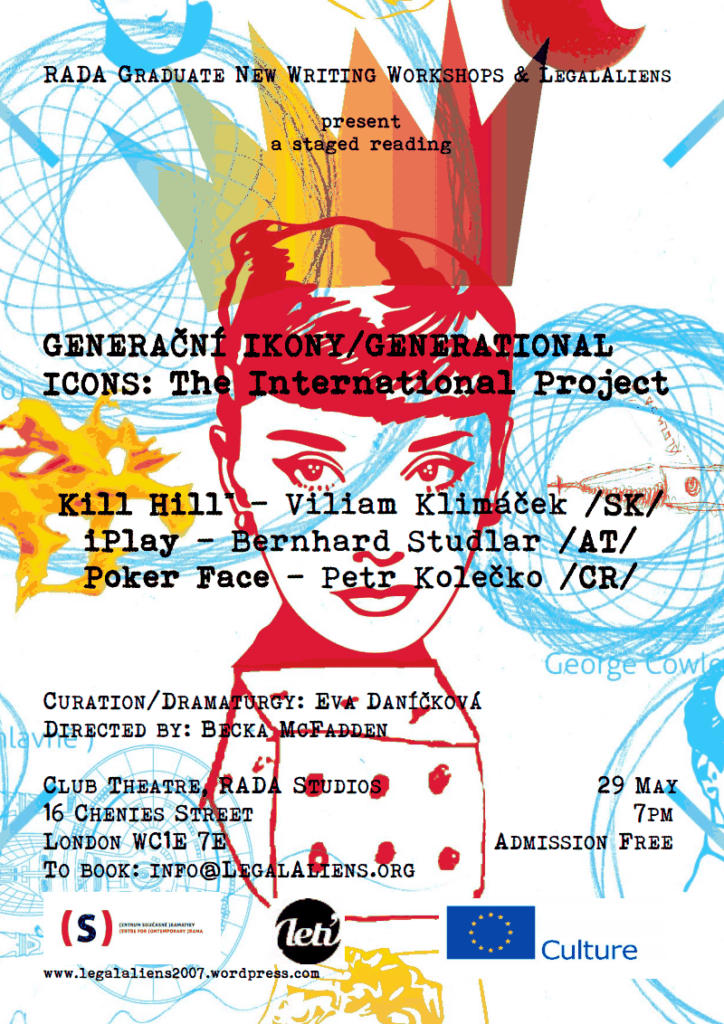 Meine englische Übersetzung von Bernhard Studlars IPLAY wird am 29. Mai 2013 um 19.00 Uhr im The Club Theatre, RADA Studios, 16 Chenies Street, London WC1E 7PA gelesen. Hier ist der Ankündigungstext (auf Englisch), zitiert von Facebook.
RADA Graduate New Writing Workshops & LegalAliens present a staged reading of
'Poker Face' by Petr Kolečko (Czech Republic)
'Kill Hill' by Viliam Klimáček (Slovakia)
'iPlay' by Bernhard Studlar (Austria)
The Generational Icons project, conceived by Divadlo Letí (Theatre Letí, Prague), is crossing the English Channel for the first time in its existence, produced by LegalAliens in collaboration with RADA Graduate New Writing Workshop. LegalAliens foster new European writing in translation and to forge synergies with international companies in order to create a shared platform. The United Kingdom is bedrock of new writing, a country with a strong tradition of playwrights, with numerous new writing initiatives as well as university courses all over the country. We hope to convey the local as well as the global nature of the themes negotiated by the three continental playwrights.
The main aim of Generational Icons is a direct confrontation between individual nationalities, generations and cultural contexts. The result is three plays from three countries – Czech Republic, Slovakia and Austria – by three different generations of playwrights. Although different in form, ranging from the more traditional dramatic form to postdramatic theatre, all three plays reflect the current social-political and economic environment. Both the Czech 'Poker Face' by Petr Kolečko, and the Slovak 'Kill Hill ™', by Villam Klimáček deal with the theme of money and games. Money and the freedom that money can bring are connected with games (virtual reality for Klimáček and poker for Kolečko). Both plays deal with the loss of ideals and disillusionment which ensued the arrival of the capitalist and pragmatic social system after the fall of communism in Eastern Europe. 'iPlay' by Bernhard Studlar is a collage where poetry, humour, and politics blend.
As usual LegalAliens has put together an international cast of actors.
The readings are curated by Czech dramaturg Eva Daní?ková and directed by Becka McFadden.
FREE event, book with: info@legalaliens.org
---