ITHAKA – Andrea Stolowitz at the Theatersalon
With Andrea Stolowitz, Drama Panorama for the first time has the pleasure of inviting an American playwright in person and introduce one of her most successful plays.
As usual, we will introduce the playwright in a discussion and a few selected scenes from her play in brand new translation in a staged reading.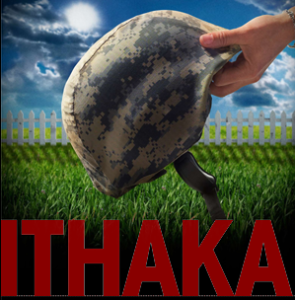 ITHAKA
Lanie has just returned from her latest tour in Afghanistan but this time things are different; home doesn't feel right and nothing makes sense. After a blow up fight with her husband propels her to skip town, she undertakes an Odyssean journey through the American landscape battling her monsters, trying to find her way home.

Andrea M. Stolowitz
is from Portland, Oregon. She received her MA in creative writing at the University of California San Diego, studied Creative writing at the Columbia University, Russian language and literature at Barnard College and at Hampshire College, where she spent two years in Moscow
She wrote a large number of plays and one-acts, many of which were successful and received awards, but it were particularly her three younger plays ITHAKA, ANTARKTIKOS, and KNOWING CAIRO that received many productions and awards and were even published in print.
Andrea is a founding member of the playwrights producing company Playwrights West.
She taught Creative writing, Screenwriting, Text Analysis, etc. at various universities including Willamette University in Salem as well as University of Portland, both in Oregon, atDuke University in Durham, North Carolina, as well as at University of California San Diego.
Andrea Stolowitz currently enjoys a DAAD grant and a writer's residency at the English Theater Berlin.
Find more information on her website http://andreastolowitz.com
Actors reading: Pia Seiferth, Brit Gdanietz, Axel Strothmann
THEATERSALON with Drama Panorama
on 16 October 2014 at 7 pm
Kunstquartier Bethanien
Mariannenplatz 2
10997 Berlin
Copyrights: Image: Ryan Durham, Foto: Roxanne Spiegel